Anyone who knows me knows that I am OBSESSED with Friends. I'm not even exaggerating. So I have decided to round up all the episodes that you should watch on Thanksgiving. 🙂
"The One Where Chandler Hates Dogs"
S7-E8
Joey tells Rachel's secret. We find out a secret about Chandler as well.
"The One With The List"
S2-E8
Chanlder helps Ross create a pros and cons list to decide between Rachel and Julie. Monica gets a job creating recipes with a disgusting synthetic chocolate substitute.
"The One With The Late Thanksgiving"
S10-E8
Monica prepares dinner for the gang, and is upset when they all show up late. Pheobe convinces Rachel to enter Emma into a beauty contest.
"The One Where the Underdog Gets Away"
S1-E9
Monica and Ross cook Thanksgiving dinner for themselves, but everyone else shows up.
"The One with Chandler in a Box"
S4-E8
Chandler reveals a mistake he made behind Joey's back. Joey comes up with an interesting punishment.
"The One with the Rumor"
S8-E9
We find out about a special club in high school dedicated to Rachel.
"The One with Rachel's Other Sister"
S9-E8
Rachel has a bone to pick with her self-centered sister.
"The One with the Football"
S3-E9
We see the competive side of the Geller siblings which results in Thanksgiving dinner not going as planned.
"The One with All the Thanksgivings"
S5-E8
A classic flashback episode.
"The One where Ross got High"
S6-E9
Chandler finds out that Monica didn't tell her parents they were together, for good reason. Her parents thought that Chandler was a drug addict.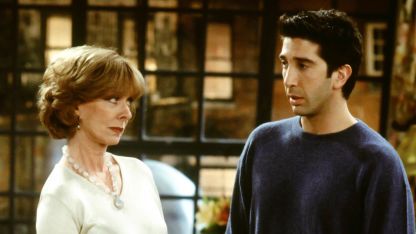 ---
Friends is one of the only sitcoms that I know of that did a dedicated Thanskgiving episode every season. I hope you found this helpful if you were wanting to have something playing in the background as you prepare for Thanksgiving. 🙂